School Trustee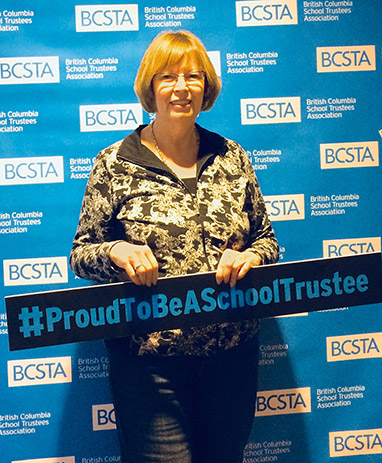 As an active member of the School Board, I work with our partner groups as well as 5 local mayors and their councils, our 4 local MLA's and the provincial government. The school district's operating budget of close to $375 million is a focus of mine. I have been diligent in monitoring revenues and expenditures on a continuous basis. Our district has repaid $13.4M of operating debt accumulated in the years prior to 2014 and now consistently maintains a surplus in order to deal with emergent issues and emergency situations.
Roles
Coquitlam School Board Trustee for 10 years
3 years as School Board Chair
Finance and Audit Committee – Member and former Chair
District Parent Advisory Council (DPAC) – Board representative
Student Leadership Council (SLC) – Board representative
BC School Trustees' Association (BCSTA) – Board representative
BCSTA's Student Initiatives Working Group – Member
Anti-Harassment Committee – Former member
Responsibilities
Setting and monitoring the district operating budget of $375 million dollars.
Overseeing all aspects of capital planning and budgeting.
Advocating for additional funding and capital projects.
Monitoring staffing, programs of choice, technology
Working with student, parent and employee groups
Working with local and provincial governments.