Successes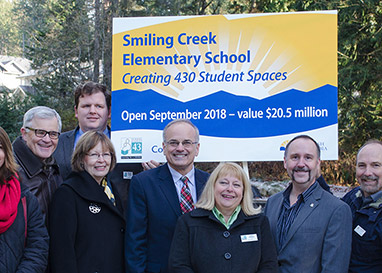 "Everything that I promised has been delivered and I am so pleased with the way that the school district is running."
Since being elected in 2014 our Board has been successful in:
Maintaining graduation rates that are #2 province wide, nearly 7% higher than the Provincial average.
Repaying $13.4 Million of debt.
Building Smiling Creek Elementary, planning an additional elementary and a combined middle/secondary and purchasing land for five schools on Burke Mountain.
Completing seismic rebuilds of Centennial Secondary, Eagle Mountain Middle, Moody Middle and Banting Middle.
Constructing seismic upgrades and additions at many other locations throughout the district.
Hiring more teachers and support staff than ever before (with declining enrollment).
Eliminating teacher lay-offs.
Developing excellent relationships with partner groups and meeting with them regularly.
Establishing a transparent Finance & Audit Committee.
Establishing a new budget process so partner groups can provide feedback before the preliminary budget is developed.
Reviewing programs to ensure efficient use of resources: Education Assistants; Human Resources; Payroll; Facilities maintenance.
Developing Directions 2020 – Strategic Goals and Objectives for the district.